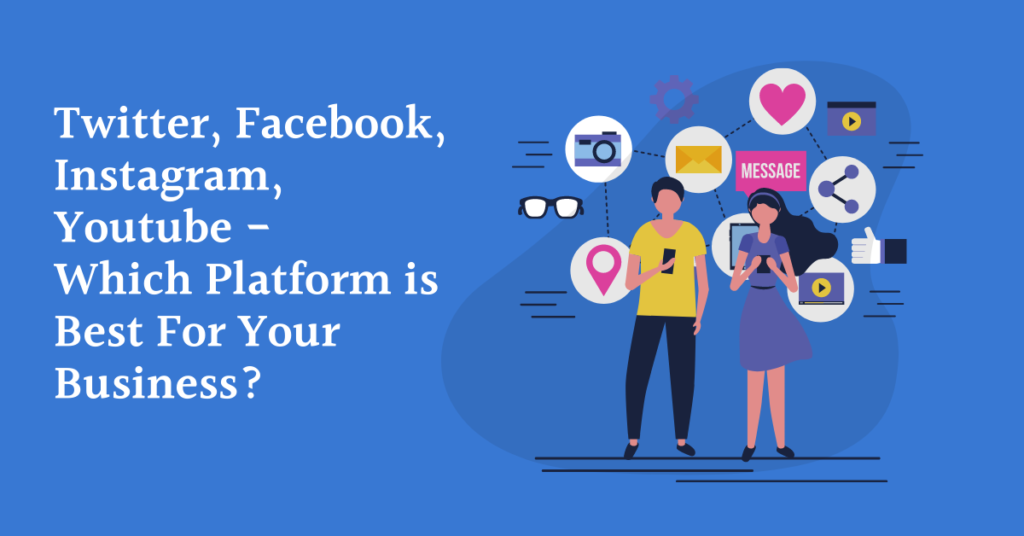 Twitter, Facebook, Instagram, Youtube -Which Platform is Best For Your Business?
In today's digital environment, it's difficult to picture a company without a social media presence.
To stay competitive and engage with a broader audience, you must be active on social media.
There are a variety of social media networks to choose from. Today, we'll take a look at the four most popular social media platforms: Twitter, Facebook, Instagram, and YouTube, to see which is ideal for your company.
One thing to bear in mind is that there is no such thing as the "perfect" social media platform for your company.
The one you pick will be determined by your target audience and objectives!
Let's take a look at the top four: Facebook, Instagram, Twitter, and YouTube.
Facebook
With over 2.7 billion members, Facebook is the most popular social networking platform.
With such a large audience, every company should have a Facebook page.
The beauty of Facebook is that it caters to practically every demographic, from the elderly to the young.
This makes it an ideal location for conducting business. You may identify your target demographic on Facebook so that you can develop customized advertising that appeals to your niche.
Facebook allows you to effortlessly post both videos and photographs with a business account.
You get access to strong business tools, as well as the ability to develop effective advertising campaigns.
And what's more, you can easily share business information such as email addresses and websites.
Instagram
Video and picture ads are becoming more popular among businesses. The reason behind this is that people prefer to watch videos rather than read text.
A prospect can decide whether or not to buy a company's items much more easily and quickly by seeing a short video.
Instagram is one of the most popular platforms for sharing video and image content.
With up to 1 billion users each day, it is also the second most popular social media platform.
It's worth noting, though, that millennials use Instagram more than any other generation.
As a result, your company should generate content and products that appeal to this group.
Businesses may use efficient Instagram features to reach out to their customers, from Instagram stories to Instagram live.
Twitter
Twitter has been around for a long time. Twitter, on the other hand, is more suited for disseminating short information such as links and photographs than Facebook and Instagram.
As a result, Twitter is an ideal venue for spreading blog URLs.
As a result, it can be an effective technique for increasing visitors to your website.
Using influencers is one method to get the most out of Twitter for your company.
Your business could be exposed to thousands of potential clients if an influencer with a huge following retweets your article.
However, if your company is primarily focused on video and other forms of visual material, Youtube might be a better fit.
YouTube
YouTube is one of the most effective sites for sharing long-form visual content.
Users can post videos that are longer than an hour. It's a fantastic technique to increase your followers' engagement.
You may also use the comments sections to gather data for your company to improve its products or service delivery.
If your company does not produce visual content, YouTube may not be necessary, and Twitter may be a better option.
Final Word
So, what's the ideal social networking platform for your company?
All of the platforms stated above are excellent, and the one that is best for your company will be determined by your objectives and the type of material you produce.
It will also rely on your target audience, so figure out who they are before you start using any marketing platform!
Leveraging People's Eternal Tendency To Ask Google! SEO is all about helping online customers find your website and content. After all, there's no point in creating the most attractive website in the world if no one ever sees it. We explained what SEO is and why it will always be vital in part one of…
Read More

→