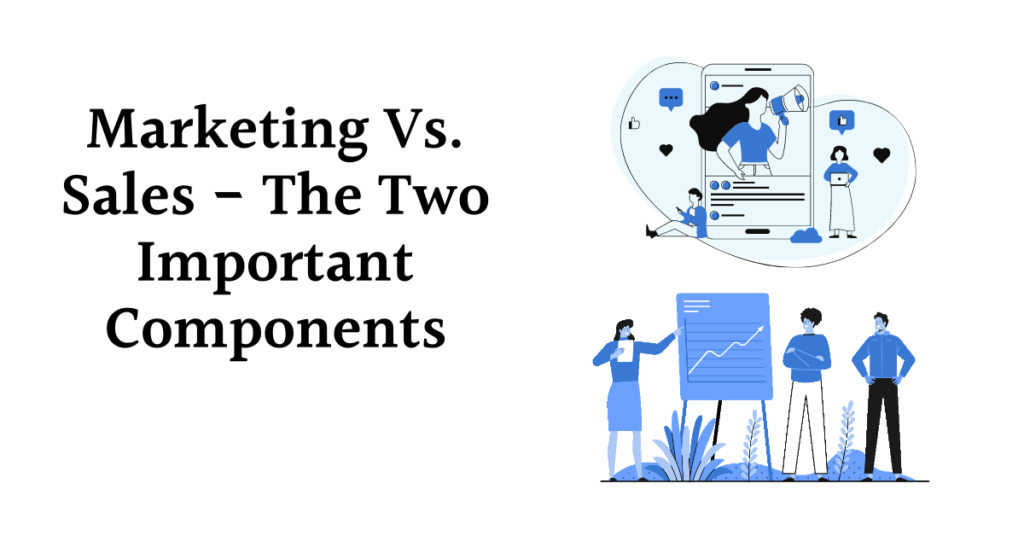 Marketing Vs. Sales – The Two Important Components
Marketing and sales are frequently used interchangeably. They are, however, two very distinct parts of every organization.
Marketing, in general, refers to commercial activities aimed at informing potential customers about a brand and its products.
Sales, on the other hand, encompasses efforts aimed at converting prospects and leads into purchasers and repeat customers.
Both marketing and sales must collaborate to reach the same end goal: increased revenue for the company.
Let's take a deeper look at both marketing and sales and the differences between them, shall we?
Marketing – What Is It?
Marketing is the total of all the efforts that expose your business and brand to potential.
It's all about raising awareness of your company, its products, and its activities among potential customers.
One of marketing's key goals is to design campaigns that will grab people's attention and bring them to your company.
In short, you don't truly sell anything with marketing campaigns. You've simply directed potential buyers to your sales page!
Sales Page, What Do You MEAN?
To be clear, unlike marketing, "sales" refers to efforts that encourage prospects to make the all-important purchase decision.
Sales is also in charge of establishing a healthy and long-term relationship with potential consumers.
This can be accomplished by presenting your products as solutions to their problems and wants.
The Differences
So, as you've probably figured out by now, sales and marketing are not the same.
Marketing is the act or series of actions that aim to advertise, sell, and circulate items or services, with a focus on generating interest in a product or service prior to its sale.
After then, the sales process usually begins.
But what are the differences in the sales approach versus that of marketing?

Well, there are 3 main differences:
The process
The Goals
The Strategies
Let's go over each one!
The Process
Both the marketing and sales plans will begin by clearly stating the company's goals and objectives.
Each will then go on to describe the intricacies of their particular activity.
The sort of product, where the product will be sold, who it will be sold to, and how it will be marketed to prospects will all be included in the marketing plan.
It also spells forth the specifics of the marketing channel chosen.
The sales strategy, on the other hand, will include information on the sales process, goals, target market, and sales team structure.
There is also a vivid outline of the tools to be used, the action plan as well as the resources to be employed.
The Goals
The ultimate goal of both marketing and sales is to increase revenue for the company.
However, the primary purpose of marketing is to establish plans while keeping the big picture in mind.
It looks ahead and tries to promote the company for the long term. It is marketing that conducts market research and determines product prices – this is where we find the avatar of our ideal customer.
It also improves the products to ensure that they meet the needs of the customers.
Simply defined, marketing objectives are more long-term in nature, whereas sales objectives are more short-term.
It's frequently about meeting monthly volume and quota targets.
Sales establish goals and assign them to each team member.
The Strategies
Different marketing techniques can be used depending on the type of customer and the type of marketing campaign.
Some examples are blog marketing, video marketing, and social media marketing.
The same may be true for sales techniques.
A firm can use a range of various strategies depending on the situation.
Inbound selling, customer-centric selling, and the Sandler method, for example.
Overall, when you get down to the nitty-gritty of marketing and sales, you'll notice that the differences in strategy are night and day!
Final Word
The contrast between marketing and sales is subtle, but it is critical.
Understanding it will help you get more out of your SEO and digital advertising operations.
If marketing is the art of informing people about what's available, sales is the art of assisting customers in making decisions – frequently by providing direction during the purchasing process that leads to a sale at the end.
Marketing helps you uncover new prospects, while sales help lessen their barriers to purchase.
These two disciplines go hand in hand when employed appropriately to drive business growth goals for any corporation, so educate yourself and maximize performance in both areas!
Your ideal clients are waiting for you.
In today's digital environment, it's difficult to picture a company without a social media presence. To stay competitive and engage with a broader audience, you must be active on social media. There are a variety of social media networks to choose from. Today, we'll take a look at the four most popular social media platforms:…
Read More

→