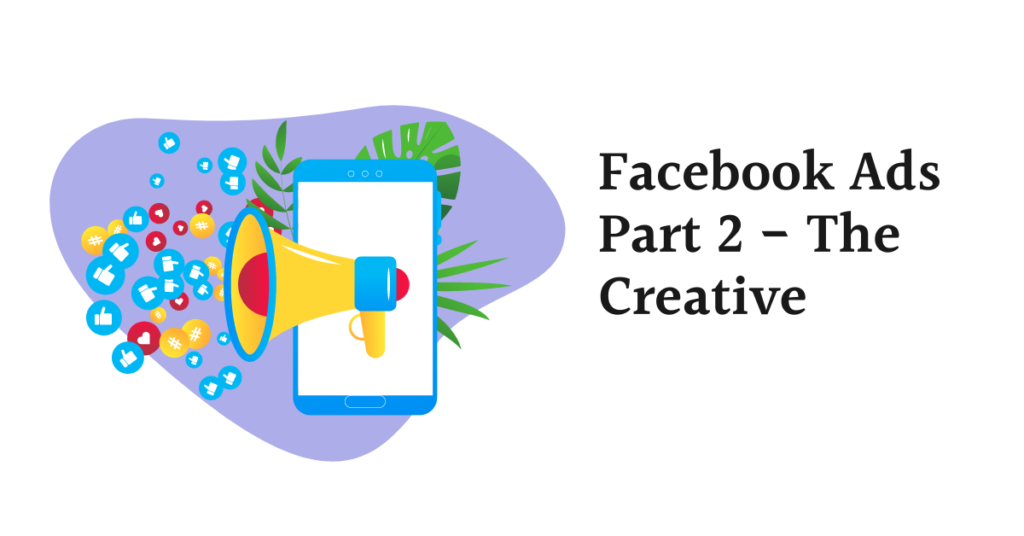 Facebook Ads Part 2 – The Creative
The Facebook ad creative refers to the advertisement as it appears to users in different digital channels such as live broadcasts, social media, websites, and applications.
The ad creative can be in any media, including video, image, gif, and others.
With this in mind, there are many various types of Facebook creatives, therefore you'll need to test them all during your campaign to see which one works best!
Hint: Videos are really effective.
The different Facebook ad creatives
With Facebook creative, you have the option between video and display.
The main display includes:
300×250
336×280
728×90
300×600
320×100
The type of experience you want to deliver through the ad will determine the display you choose.
Creative Fatigue
When customers see an ad several times, its effectiveness decreases.
This is when you may experience creative fatigue.
The odd thing about Facebook ad creative is that the better and more effective it is, the more work it takes to create it.
This is because when ad spending rises, more successful ads burn out faster.
This also means that marketers will have to work much harder to attain the same level of results. (Yes, the rule of diminishing returns holds true here as well…)
There's also the issue of breaking through your creative comfort zone's barriers.
Many teams are prone to sticking to the same strategies since they have previously proven to be effective.
This can make the creative process tedious.
How to get over the creative comfort zone
Regular ad campaign analysis might help you get out of your creative comfort zone. Then, to see how the ads are performing, conduct a competitive analysis.
The Facebook Ad Library is a helpful tool for this.
This will not only help you become more data-driven but will also assist you in coming up with fresh ideas.
Competitions between different in-house teams or between an in-house and an outhouse team can also be held.
The performances of the various teams can then be compared.
The only disadvantage is that it will take longer (i.e more than a month for any data to be reliable.). The data will fail if it is used less frequently.
Finally, outsourcing is an option. This lets you gain access to world-class marketers.
Tips for creating the perfect ad creative
So, keeping the importance of your ad creative in mind, let's have a look at some practical tips you can use to create your ideal ad creative!
It's important to remember, though, that just because it looks good and you like it doesn't mean it'll be effective.
1.   Start with a quality image
Keep in mind that even if you have the best ad copy in town, it will not be the first thing people view.
The ad image will be the first thing they see.
Our brains analyze information from images in a fraction of a second, but reading and interpreting text take far longer.
This is why it's critical to create a memorable image for your ad.
Here's a hint: the kid portion of our brain likes animated objects and has no trouble grasping them. Try them out!
2.   Placing the ad
You can choose to place your ad in front of the desktop news feed, the right-hand column, or the mobile news feed on Facebook.
Your ad's performance can be affected if the creative or ad is placed incorrectly.
It's a matter of determining how your target audience will react and where the ad should be displayed.
And the easiest way to do this is through… you guessed it – testing!
Data is aware of this.
3.   Limit the words
Keep the words surrounding the image to limited. People would rather pay attention to the image than the words (the text for the image).
However, when it comes to the headline, make sure it clearly communicates the product's benefits.
Final Word
Facebook advertisements are one of the most effective ways to raise brand awareness, establish a good following, and generate leads.
This is why it's critical to put your ad creative to the test and invest in generating the best Facebook advertising for your target audience.
Consider your Facebook ad creative to be the first step in your marketing funnel, determining whether or not someone will visit your sales page.
The Facebook ad is your initial sales pitch; it shouldn't reveal all of your cards at once, but rather demonstrate that you have some aces up your sleeve.
In part 3 of this article series, you'll learn about something a little more particular (and, in fact, far more crucial) about your advertisement: targeting the right audience!
In today's digital environment, it's difficult to picture a company without a social media presence. To stay competitive and engage with a broader audience, you must be active on social media. There are a variety of social media networks to choose from. Today, we'll take a look at the four most popular social media platforms:…
Read More

→