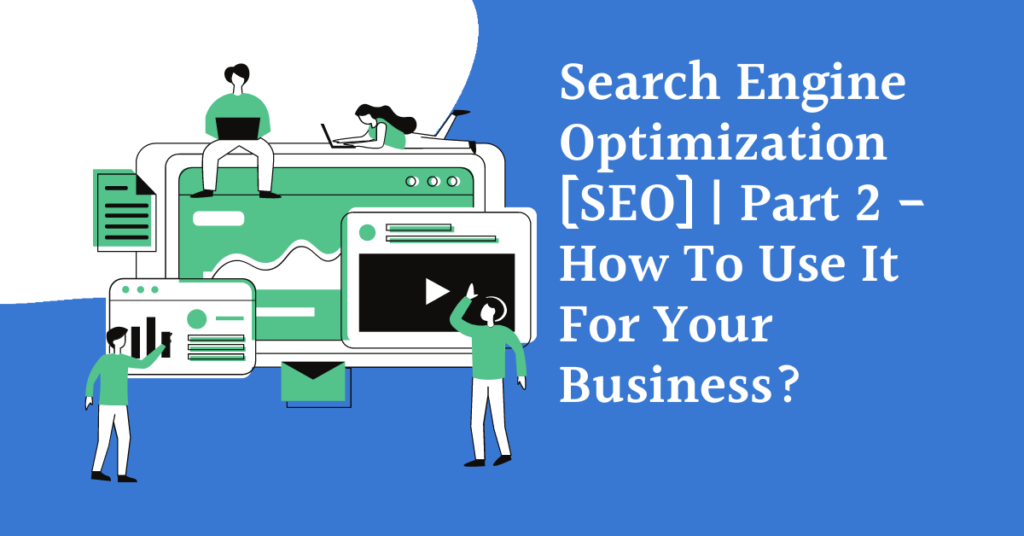 Search Engine Optimization [SEO] | Part 2 – How To Use It For Your Business?
Leveraging People's Eternal Tendency To Ask Google!
SEO is all about helping online customers find your website and content. After all, there's no point in creating the most attractive website in the world if no one ever sees it.
We explained what SEO is and why it will always be vital in part one of this essay series.
Now it's time for us to give you some tips on how to put it to use in your business.
Ready? Steady? Learn!
Using Keywords
Start by thinking about the keywords customers are more likely to use when searching for products online.
For instance, when customers are searching for a refrigerator, will they use the word "refrigerator," or are they more likely to use "fridge"?
Once you have created a list of keywords that you think customers are using, you can use tools like Google AdWords and Keyword Planner to see if these are the most commonly used keywords.
You can then use the keywords to help customers find your content more easily on your website.
Avoid keyword stuffing. This is where you sprinkle keywords all over the content.
The problem here is that you could end up irritating the readers as the copy doesn't sound natural, which will put them off.
As a result, your site will experience a high bounce rate causing search engines to penalize your website.
Offer Your Uniqueness!
Keep in mind that there are probably many other businesses offering the same products as you.
So how can you ensure that your business website stands out from the crowd?
Well, you can highlight your unique offerings. What does your business do differently from all the rest?
Put this down on your copy.
Use Links!
Your site will rank higher with more sites that have links directing back to your website.
Requesting those site owners that sell relevant products to link back to your website is a good idea.
You can also offer a link to their website in exchange.
Ensure quality links. Avoid poorly optimized sites linking back to your website, as these will not help in ranking your website.
Publishing Top-Notch Content
Search engines are in the business of helping online users find answers to their questions and solutions to their problems.
Therefore, the best way to help your website rank higher is to publish top-quality content, including blogs, articles, videos, and photos.
You may want to consider investing in a good content marketing strategy.
Using Social Media
Next to using search engines, people will also use social media to find what they are looking for.
Online shoppers will search for products on platforms such as Facebook and Instagram.
Your business should therefore have a good social media presence.
Your business's social media profile will rank higher the more people find what they are searching for on your social media page.
Your Business Website
Optimize your website for outstanding usability. This means it should be easy to navigate and provide readers with information quickly and efficiently.
Secondly, optimize it for mobile as more people are on their mobile devices than are on desktops or laptops nowadays!
Use many headings in your content. This will help improve readability.
Also, consider site speed as online shoppers are unwilling to spend more than a few seconds on a website with a slow loading speed.
Final Word
The SEO game is constantly changing, so it's crucial to stay on top of the latest updates.
It can take time and patience for your website to rank higher in search engine results pages (SERPs), but you should keep trying new strategies until one sticks!
And don't be afraid to get help from a professional if you need it! (pssst, we're here for you!)
Remember that what's relevant today may not be in a few years due to algorithm changes or other factors!
Keep up with the trends and changes.
Stay competitive.
In today's digital environment, it's difficult to picture a company without a social media presence. To stay competitive and engage with a broader audience, you must be active on social media. There are a variety of social media networks to choose from. Today, we'll take a look at the four most popular social media platforms:…
Read More

→